text.skipToContent
text.skipToNavigation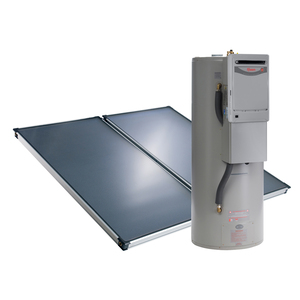 Rheem Premier Loline® 596270 Integrated Solar Water Heater
Do your bit for the planet and save energy at the same time! Go solar with the Rheem Premier® Loline solar water heater. It's designed for cooler climates and all weather conditions.
Features at a Glance
Features:
270L tank capacity is suitable for 2-5 people

Complete frost protection - unique Drain-BackTM heat exchange technology

Booster - 26L/min 6 star gas continuous flow

2 or 3 collectors — to "collect" energy from the sun

Reduces energy use1,2

Suitable with 2 or 3 x SPA2000 or CSA2007 collectors
Warranty:
Tank and Collector(s)
5 years cylinder and collector supply*
3 years cylinder labour*
1 year collector labour
1 year parts supply and labour
Solar Gas Booster
10 years gas booster heat exchanger supply*
3 years heat exchanger labour*
3 years parts supply and labour*
*The warranty periods above apply to installations in a single-family domestic dwelling only. For further details, please refer to the Owner's Guide.
Warranty conditions apply.
1Energy reduction based on Australian Government Approved TRNSYS simulation modelling and apply when replacing an electric water heater with a Rheem solar water.
2Any financial savings will vary depending upon type of Rheem Solar system installed, orientation and inclination of the solar collectors, type of water heater being replaced, hot water consumption and fuel tariff. Maximum financial savings off your hot water bill are achievable when replacing an electric water heater on continuous tariff.
Owners and Installation Guides
Running Cost Estimator
Running Cost Estimator Disclaimer as at 01/10/2023
Things that you should know about the Rheem Running Cost Estimator
The estimator is provided as a guide only to help you compare estimated running costs between various water heater types.
The estimator is based on Australian Standard AS5263, which relies on certain assumptions, such as an average daily load of 200L and 19 tap turns. Your situation and usage may be different to these assumptions, so the estimator may not match your actual daily loads and pattern of use.
Accordingly, the estimator cannot and does not purport to provide an accurate assessment of your yearly hot water energy bill. It does, however, allow a reasonable comparison between various water heater types based on Australian Standard AS5263 and average fuel tariffs used in the estimator.
Your state has been used to determine the temperature rise required to heat water from cold to a temperature of 65C, the applicable charge for the tariff type selected and the amount of solar savings.
Solar savings are based on Australian Government approved modelling for the type of solar water heater selected and the booster type. All electric boosted solar water heaters are modelled with a continuous tariff, but may be suitable for use on other tariff types depending on the model selected, your climate zone and the amount and usage pattern of hot water use.
Tariffs are current as at 9th March 2023 and represent an average price for the fuel type for the capital city in the state or territory, including GST.
Fixed charges, system access charges, delivery fees and any other fees and charges, including special rates and discounts are excluded from the estimator.
Energy consumption figures used are for a typical water heater within a category and do not reflect a specific model. Actual energy use may vary.
Heat Pump and solar water heaters may be suitable for Off Peak/Shoulder Rate tariffs depending on the type of water heater selected and the location. You should consult with your energy provider or installer before making any decision.