text.skipToContent
text.skipToNavigation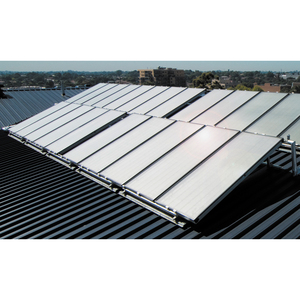 Loline Direct Solar
Rheem Loline provides absolute flexibility in design. Storage tanks can be mounted at the same level or below the collectors to suit site requirements and tank/collector ratios can be closely matched to maximise system efficiency.
Features at a Glance
Features
Modular design provides flexibility

NPT200 collector provides good performance in all locations

325 – 5000L storage capacity

Provides partial protection against freeze
Warranty
5 year commercial warranty on 325 and 410L cylinder
8 year commercial warranty on 1000 to 5000L cylinder
5 year commercial warranty on collector 12 months warranty on parts and labour
*Warranty conditions apply
Brochures
Owners and Installation Guides
Drawings
The solar water heater shall be Rheem Loline comprising the following key elements. The collectors shall be Rheem model NPT200 with 7 riser tubes, 2m2 copper absorber panel, painted black. Up to 24 collectors may be assembled in parallel using a patented, WaterMark certified expansion tube after every eighth collector. The solar controller shall have the following sensors for differential solar control (2), frost protection (1), solar secondary return (1) and shall have the following output functions: Solar pump control, auxiliary boost for frost protection, solar secondary return drive open and drive close for 3 way valve operation, Run/Fail voltage free contacts for BMS. The system shall be supplied with a Water Mark certified 3 way motorised valve to maximise solar contribution using Solar Secondary Return functionality. The tanks shall be Rheem model 610340 or 610430 with 325 or 410L capacity in mild steel coated with class Y enamel and 3 x 50mm water fitting connections. The tank shall be suitable for operation up to 82oC and 1000kPa. The tanks shall be insulated with up to 54mm of polyurethane foam encased in a painted steel jacket. Alternatively, the tanks shall be Rheem RT series stainless steel with nominal capacity of 1000, 2000, 3000, 4000 or 5000L with 8 x 50mm water fittings and 4 x 15mm sensor connections. The tank shall be suitable for operation up to 90oCand 900kPa. The tanks shall be insulated with 100mm polypropylene fibre and aluminium clad. The tanks shall have 2 flanges for provision of auxiliary electric heating.