text.skipToContent
text.skipToNavigation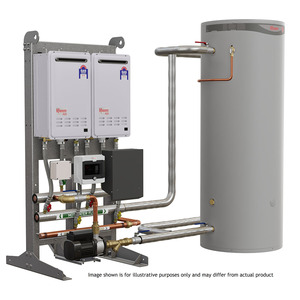 Tankpak Series 3 External Standard TP3E02-06S
Rheem Tankpak Series 3 is the next phase in commercial water heating with electronic staging and rotation, for increased efficiency and product life. Combining the benefits of mains pressure and continuous flow water heating, Rheem Tankpak Series 3 Standard models are supplied with the controller, pump, in line filter and water heater power supply factory assembled and tested, requiring only connection of the storage tank on site.
Features at a Glance
Features
Electronic staging and rotation
Shorter and lighter frame design
Inline, wall mount or back to back mounting options
84% thermal efficiency 6 Star heat source
Vitreous enamel storage tank with 50mm fittings up to 82°C operation
Supplied with 10A plug and lead
Warranty Conditions
5 years warranty on cylinder and heat exchanger, 1 year on parts and labour. 12 months warranty on Heat Exchanger when used with a thermostat setting exceeding 75°C
Owners and Installation Guides
Drawings
The water heater(s) shall be Rheem Tankpak Series 3 Standard model no. __ with an hourly input of __ MJ and an hourly recovery rate of ___ litres through 50°C rise. The water heater(s) shall conform to AS/NZS5263.1.2. The water heater shall operate on the top down heating principle. The water heater shall have electronic staging and rotation for models with more than two continuous flow units to reduce energy consumption. The water heaters shall be factory assembled and tested and include thermostatic control, housed in an IP54 enclosure. The frame shall be hot dip galvanised and third party certified for wind loadings up to 74.87m/sec. Models shall be suitable for wall, floor or back to back mounting, model dependent. Indoor models shall be supplied with factory integrated condensate drains and traps. Storage tanks shall be Rheem model no. 61034050 with a storage capacity of 325 litres or 61043050 with a storage capacity of 410 litres with heavy duty enamelling and 25mm sacrificial anode and shall be fitted with 50mm BSP connections. Internal models shall have condensate drains and traps factory installed. The controller shall communicate with each continuous flow water heater and diagnose up to seven (7) system faults including all continuous flow water heater errors.