text.skipToContent
text.skipToNavigation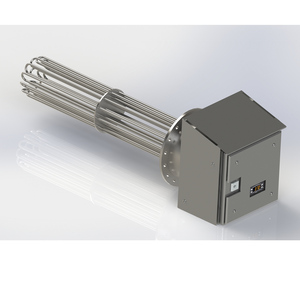 HEATING UNIT WITH SUN SHIELD 30kW #P
Longevity was top of mind when developing this heating unit. Low watts density of maximum 10.6W/cm2 keeps the heating flux down and incoloy 800 provides corrosion protection for all but the harshest water conditions.
Features at a Glance
Owners and Installation Guides
he Commercial Electric Heating Unit shall be Rheem model 050351 with a thermal input of 30 kW. The Heating Unit shall conform to Australian Standard 3498 and be WaterMark certified and shall have a sunshield suitable for outdoor applications. The Heating Unit shall be low watts density with a maximum of 10.6W/cm2 and have an incoloy 800 sheath, the flange shall be 316L stainless steel and have an EPDM gasket. The cabinet shall be made from stainless steel.The Heating Unit shall be fitted with a digital thermostat and have a maximum thermostat setting of 83°C and be fitted with an ECO set at 90°C. The contactor shall be AC3 rated. The Heating Unit must be readily interlocked with other control gear such as BMS or timer function.